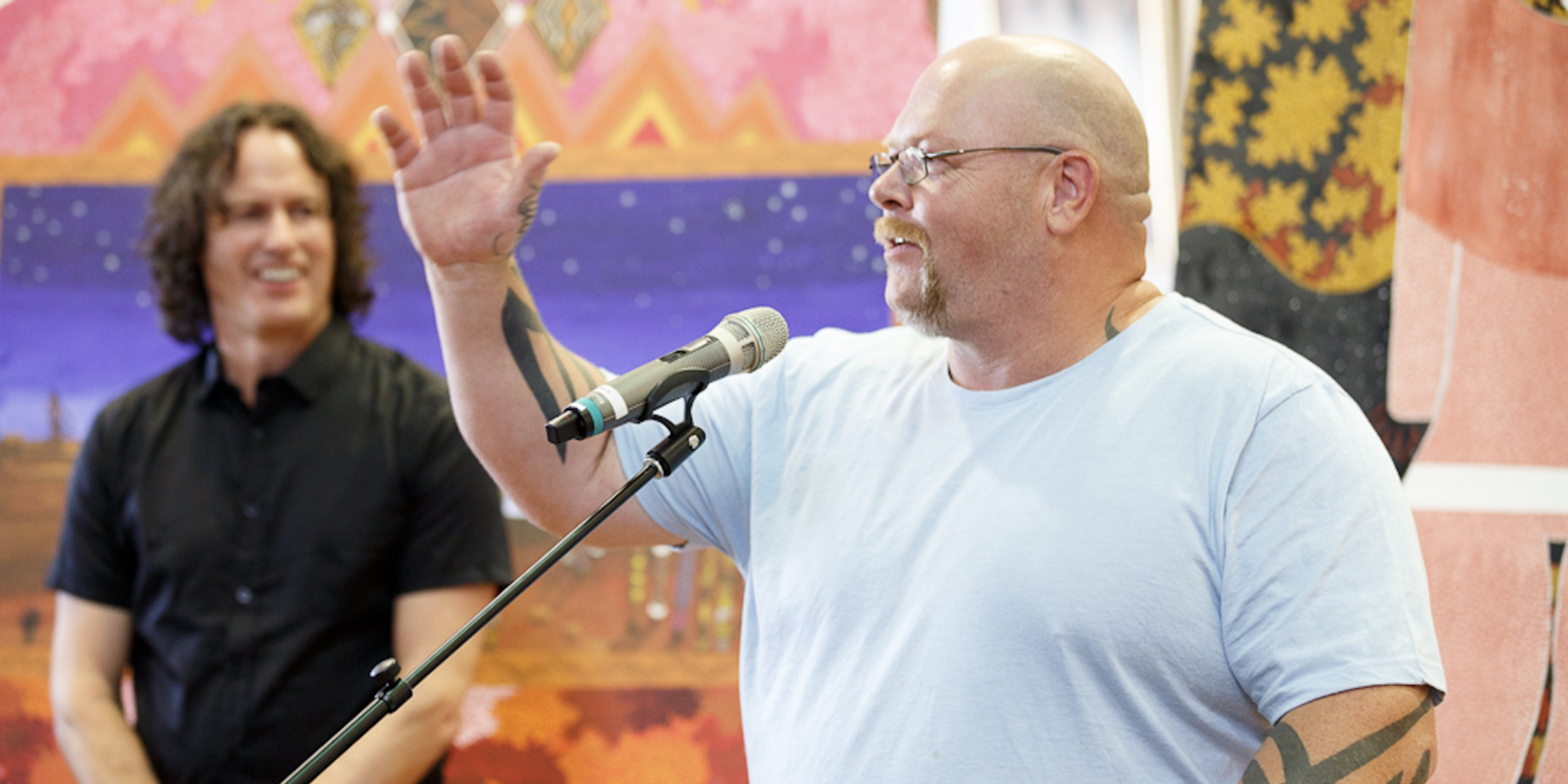 Robby Wirramanda leaves a lasting legacy at The Torch
Wergaia man, Robby Wirramanda – the first person from our In-Prison and In-Community programs to have been employed by The Torch – is moving on after an extraordinary seven year journey. Robby has landed a fantastic full time role at the First Peoples of Millewa Mallee Aboriginal Corporation (FPMMAC) as their Operations Development Officer.
Robby spent around 18 months as a participant in our In-Prison program, and two years in our In-Community program, before being employed by The Torch as an Indigenous Arts Officer, supporting our participants as they transition back into the community.
Art for me in prison was really just getting back to my Country, Lake Tyrrell. All the series I painted inside reminded me of the Country I grew up on, hunted on, camped on. I find myself back in that place, in the same shed, still creating art with others I help through this program.
Robby has spent the last three and half years working in the Loddon Mallee region with In-Community participants, mainly in and around Mildura and Robinvale. He has contributed many beautiful artworks to exhibitions over the journey and provided support and inspiration to many participants in the program.
It's a bittersweet moment as Robby leaves us to fulfil a very important role on his Country. Robby will continue to share his extraordinary art with us through The Torch's online shop and exhibitions, and we will continue to explore ways to connect his art skills and experiences with participants in the area via different means.
The Torch CEO Kent Morris says:
I first met Robby seven years ago at Barwon Prison where he sang me his beautiful song, Let's Sing, which was used in this years Confined 12 launch video. It's a moment etched in my memory as are the group of Guli, the carved wooden figures placed and photographed on Lake Tyrell which featured in the 2018 Dhumbadha Munga-Talking Knowledge exhibition and also in The Art of Incarceration documentary.

Robby has always acknowledged the role The Torch has played on his journey back to the community, and I would like to acknowledge the very important role Robby has played in the ongoing development of The Torch and our program.
From an ABC News story in 2018:
Mr Wirramanda is the first person from The Torch's Indigenous Arts in Prison and Community program to be employed to help others to stay out of jail.
I couldn't say no to that. To be able to do something I love anyway, talking to other brothers and sisters either giving them inspiration, taking them out bush, dropping them off … [it's a] great job, [a] great place to be.
All the best Robby. We will miss you, Brother, and look forward to seeing you and more of your extraordinary art soon!