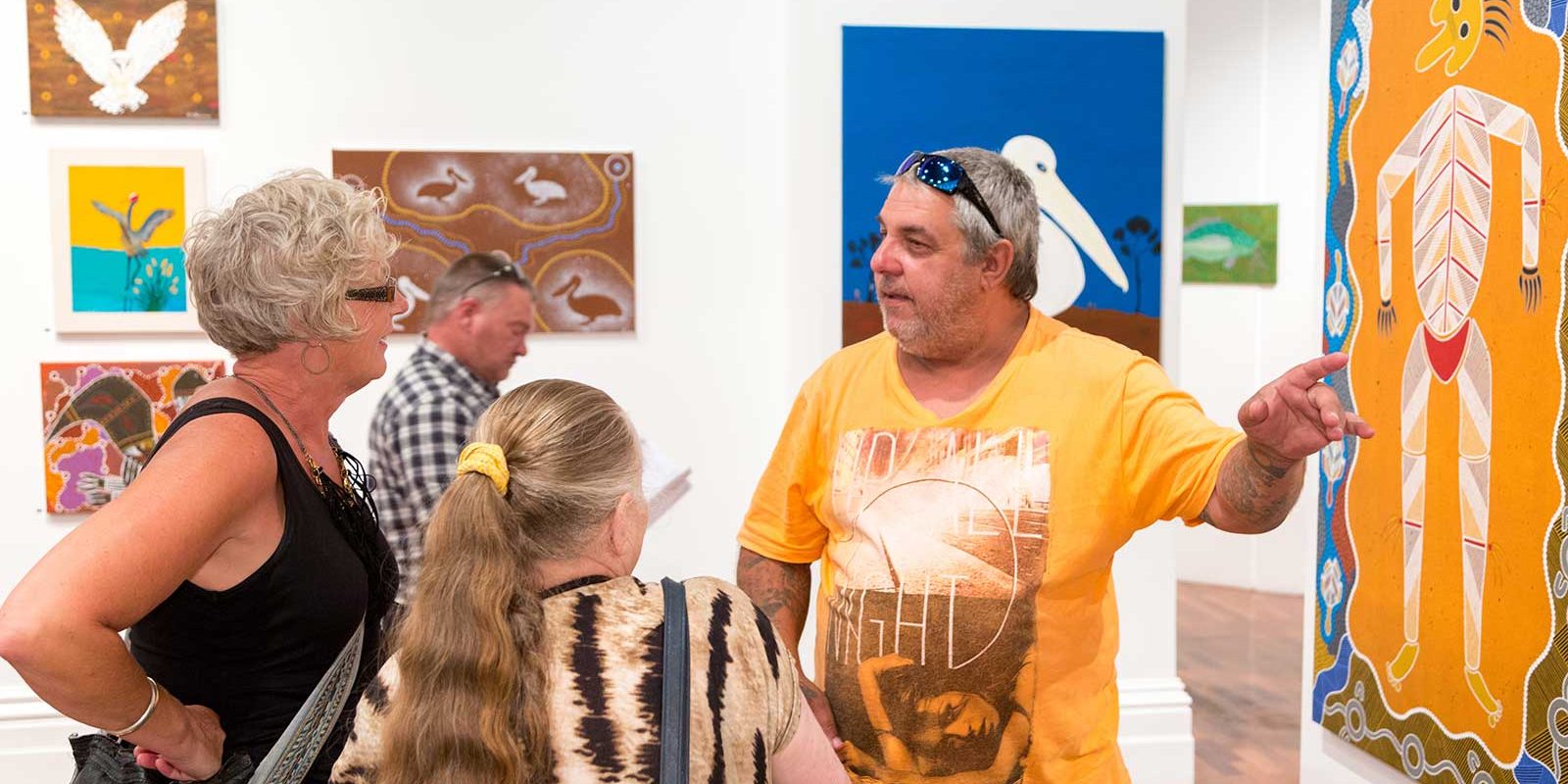 In community
Painting has given me a lot of faith in myself, more confidence and I have a stronger connection with community.

Ray Traplin, Kuku Yalanji 
Upon release from prison, participants can choose to remain in The Torch program as they transition back into the community.
Our Indigenous Arts Officers In Community encourage artists to continue to develop their art practice after release. Opportunities to engage in art projects and exhibitions are sought and artists encouraged to take part.
All In Community participants can submit artwork to be included in The Torch's annual Confined and Dhumbadha Munga – Talking Knowledge exhibitions and may offer their artworks for sale via The Torch. Artwork sales and licensing also provide economic benefits. Following new pathways upon release reduces the likelihood of reoffending.
142 ex-offenders participated in the In Community program in the 2018/2019 Financial Year.
Gandel Philanthropy and a number of other philanthropic organisations support the In Community program.
In 2017 Robby Wirramanda became the first person from The Torch's Indigenous Arts in Prison and Community program to be employed by The Torch as an Arts Officer supporting our participants as they transition back into the community.
Art for me in prison was really just getting back to my country, Lake Tyrrell. All the series I painted inside reminded me of the country I grew up on, hunted on, camped on. I find myself back in that place, in the same shed, still creating art with others I help through this program. It's a great place to be. I couldn't say no to that. To be able to do something I love anyway, talking to other brothers and sisters, either giving them inspiration, taking them out bush, dropping them off … it's a great job, a great place to be.

Robby Wirramanda, Wergaia/Wotjobaluk, 2018
Kamilaroi man Sean Miller whose works have been collected by the NGV and the Shepparton Art Museum, was the second person to come through the program, then progress to deliver it.
"I feel I have focus and direction and am not in a dead-end cycle. Also, in exploring my culture through art and exhibiting with The Torch, I was able to take my art to limits I never thought were possible."

Sean Miller, Kamilaroi, 2018