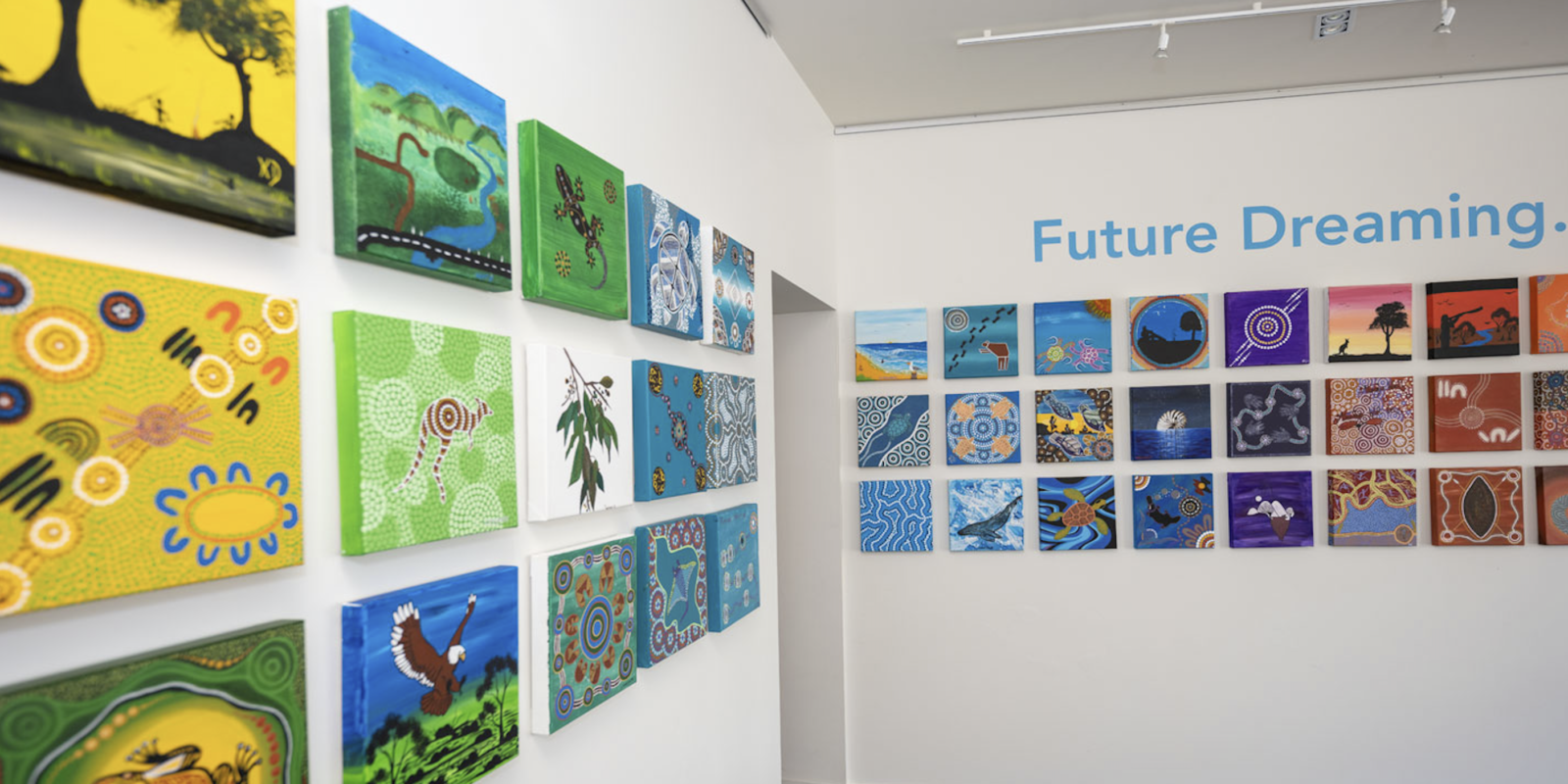 Future Dreaming Exhibition Sells Out!
Future Dreaming was an exhibition of artworks created within Victorian prisons during 2021. It was launched on 11th November and wrapped up on 17th December 2021.
We are so pleased to report that Future Dreaming was an overwhelming success and sell out show. During the online-only exhibition 205 of 205 artworks sold, raising $49,900 for the in-prison participants in our program.
Future Dreaming has given a much-needed voice to the Indigenous men and women currently incarcerated in Victorian prisons. With the help of our amazing supporters it has also given them the self-esteem and confidence that goes along with selling a piece of art, and in many cases their first piece of art.
Thanks to everyone that viewed, commented on and bought from this years online experience! You can still view the sold out show by clicking here.
I'm getting out of jail on the 18th of September, so this painting is about me reconnecting with my dad, going fishing and camping and rebuilding relationships and friendships. My painting is of a fish with foot prints, campsites and a pathway.
Brendan, Gunaikurnai people, My Future Dreaming Story, 2021
This painting is about me waiting to be released, to start my journey again and reconnect with my family. So I'm looking into the starry sky thinking about my future dream.
Billy D, Yorta Yorta people, Future Dreaming, 2021
This painting represents freedom for me. I believe it is my duty to watch over my kids and my family as I am their protector.
Jedda, Yorta Yorta people, Eagle, 2021
This place is where my Grandfather used to take me to fish and hunt. Whilst incarcerated, I dream of the future, knowing once released, the beautiful saltwater awaits me to bathe and cleanse my mind, body and soul. Future Dreaming.
Roey, Warumungu/Yawuru people, Country Awaits, 2021
A turtle's journey in the ocean is much like mine is in jail. There will be many twists and turns along the way and each day will present its own set of challenges. I face these hurdles straight up, making myself all the more better for it. Like the turtle in the end we go back to where it all began.
Merky Art, Ngarrindjeri people, Started from the Bottom Now I am Here, 2021
This is me teaching Men's Group how to paint and make didges and boomerangs. If I can save 1 out of 10 kids, by teaching them to paint instead of ending up in jail, that's my future dreaming. 2 or 3 kids even better. Hopefully I will be an art teacher at the Tafe in Wodonga. Men's Group is my Reality.
Clinton A, Wiradjuri people, Men's Group, 2021