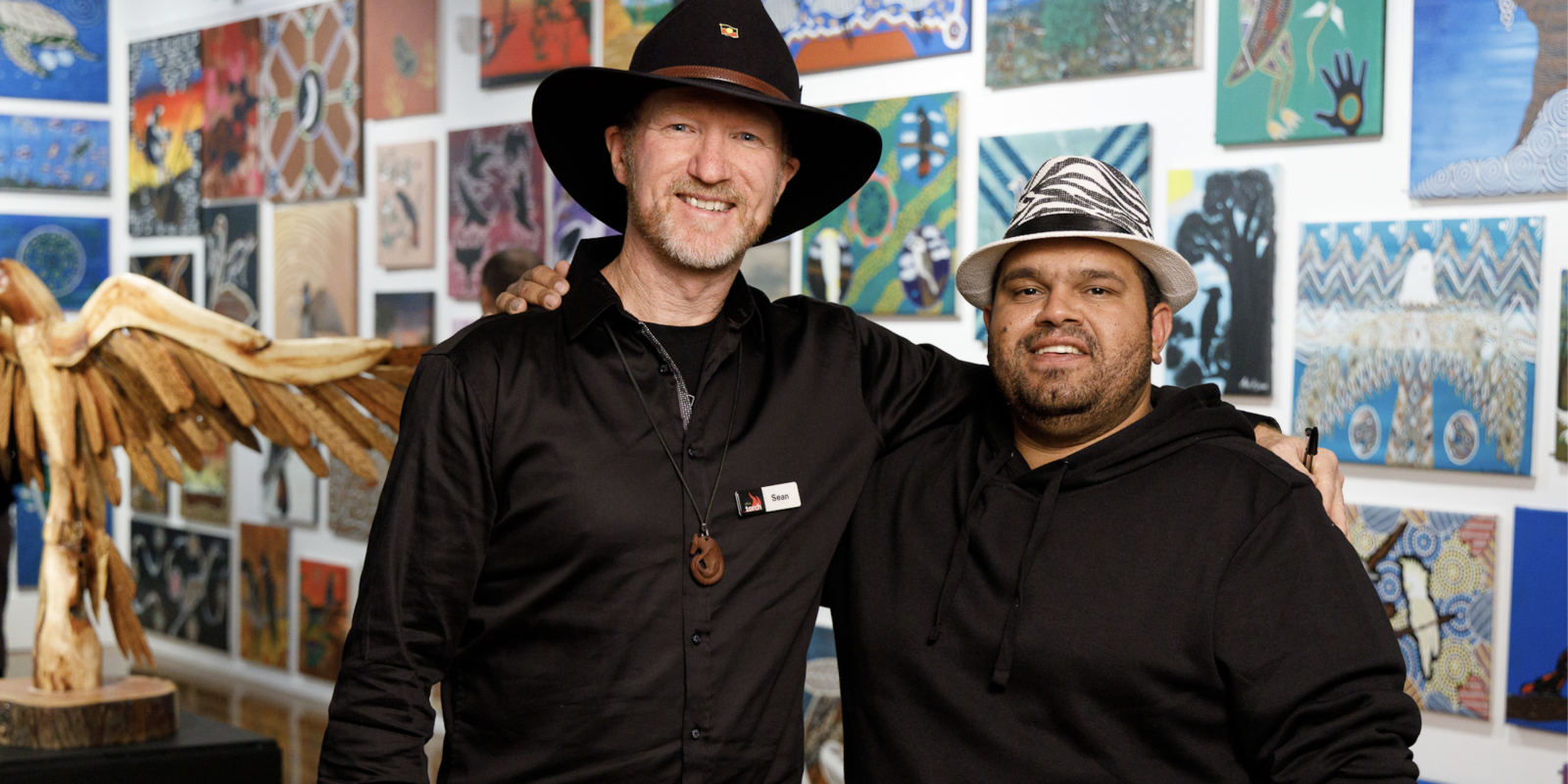 Artist Insights: Aaron Duggan
Last week we sat down with Torch participant Aaron Duggan, one of the artists in our post release program, to chat about his artistic journey so far.
Aaron is a Gunaikurnai man originally from Gippsland who has been an active and committed participant of the Torch program since 2011, having just started to learn to paint in 2009 when incarcerated.
I started watching other fellas in the art rooms painting and I started do it myself. I looked at colour charts and learnt to work colours and find which one complimented each other and looked good together.
Aaron's style of painting is graphic and bold, often utilising colours such as reds, oranges and yellow ochre. Aaron's work most often features geometric patterns including concentric diamonds and chevrons like those found on Gunaikurnai parrying shields and engraved into traditional possum skin cloaks.
I enjoy painting my culture and my mobs connection to land, water our totems.

I get my inspiration from my grandparents and family and the culture that is passed down, as well as the aboriginal icons from different nations like William Barak and Sir Doug Nicholls.
Aaron explained to us how painting has kept him connected to his culture through prison and in the post-release program. He also enjoys the thought of his artworks passing down his culture to younger generations. He then talked about sharing the meaning behind each painting publicly.
I never used to like sharing, it took me a few years to gain the confidence to do it. It has given me better trust, improved my social skills and I am no better at receiving compliments.
Aaron has been with The Torch for over ten years, and chatted about being on both programs and what it has supported him with.
It has helped us build new skills and strategies. Given me new tools to be more open and accepting, and engaging in communities, not just aboriginal communities.

It has shown me a way of making money without crime and changed the way I earn a living.

There is a light out there and I can better myself. I can show I'm a better man.
Aaron has four spectacular paintings for sale on his Torch Profile, as he continues to reach new heights with his artwork and journey in the community.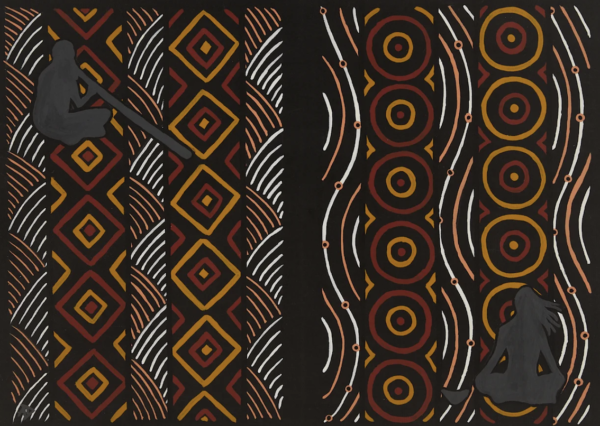 Patterns in Life, Aaron Duggan, Gunaikurnai/Wurundjeri people
39 × 55 cm | Acrylic on canvas
$500
This painting represents my Gunaikurnai and Wurundjeri culture and these designs represent the men and the women. It is important for us to retain our culture, and pass it down to our future generations.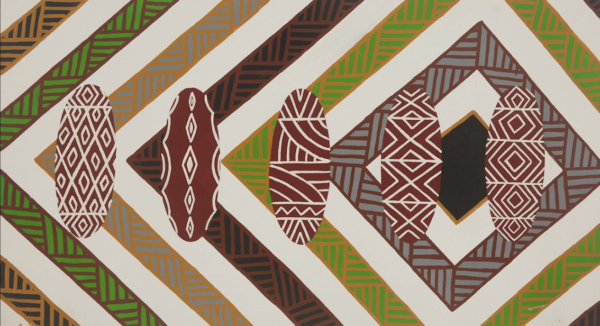 The Five Clans of the Gunaikurnai, Aaron Duggan, Gunaikurnai/Wurundjeri people
49 × 89 cm | Acrylic on canvas
$720
The five shields in this painting represent each clan of the Gunaikurnai nation. The Brabralung, Brataualung, Brayakaulung, Krauatungalung and Tatungalung.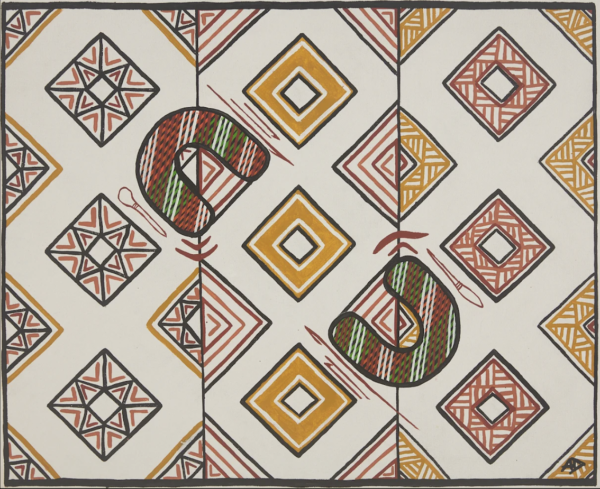 Two Hunters, Aaron Duggan, Gunaikurnai/Wurundjeri people
51 × 62 cm | Acrylic on canvas
$500
Two hunters sitting down on their country to have a rest while travelling out on a hunt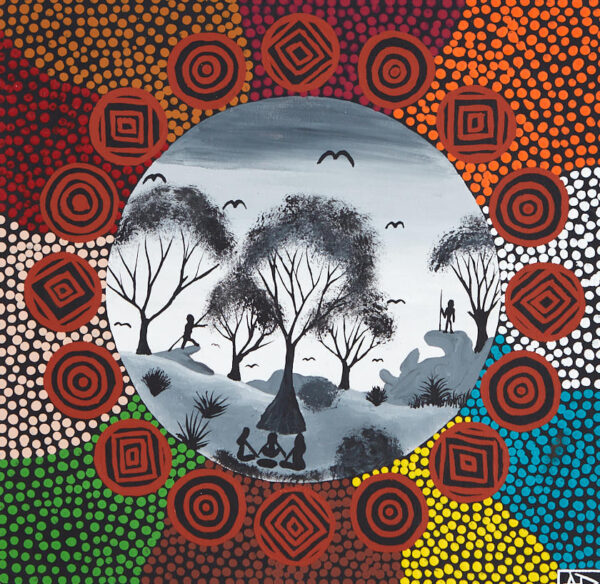 Out On Country, Aaron Duggan, Gunaikurnai/Wurundjeri people
39 × 40 cm | Acrylic on canvas
$300
This is my mob sitting around sharing yarns of being out on Country back in the day.