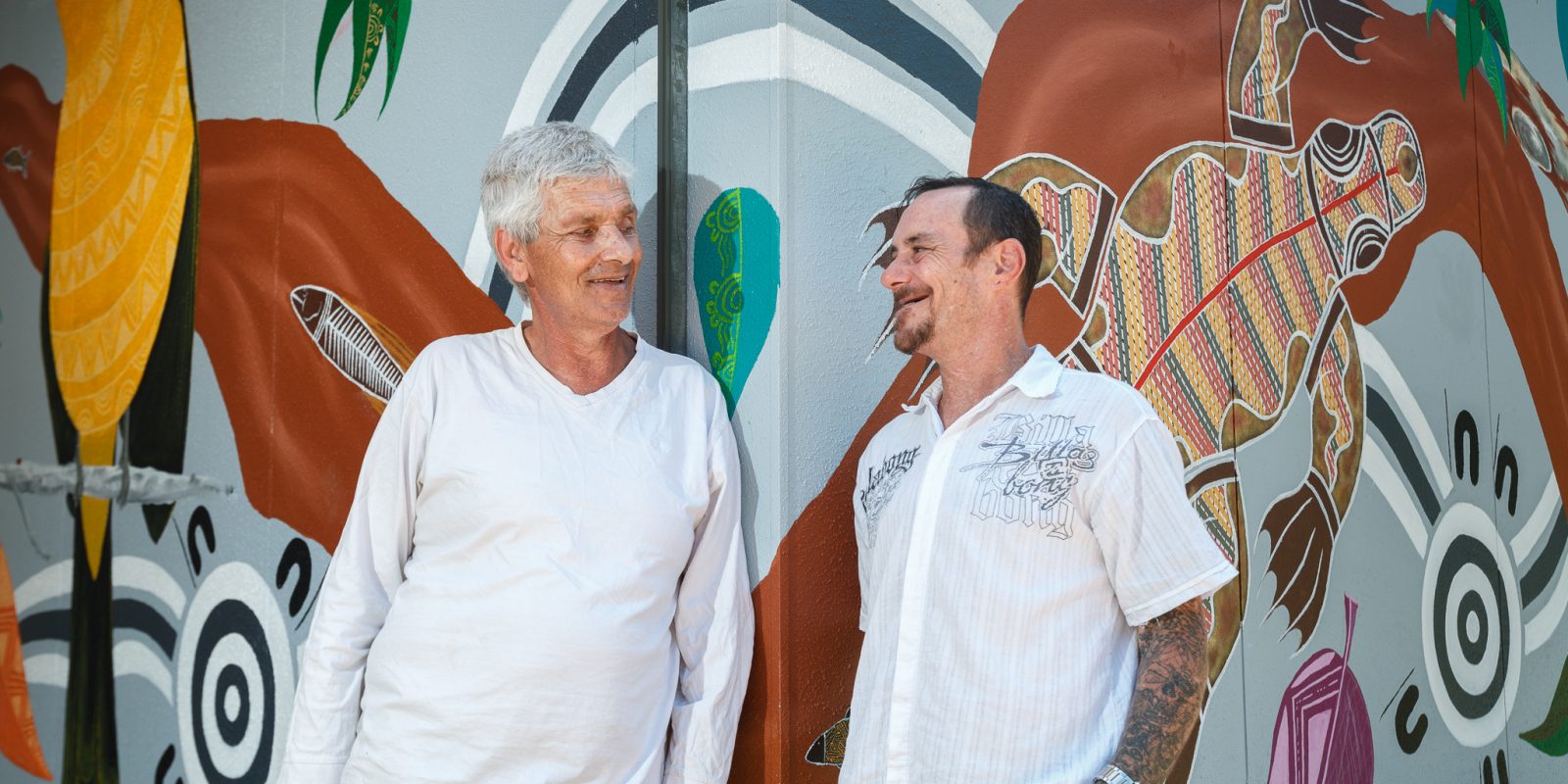 We have been crunching our 2020 numbers and despite the global pandemic, our team have been able to support more participants, and sell more artworks, than ever before.
In 2020, your support has allowed us to be active with 488 participants in and out of Victorian prisons, sell 990 artworks, license artists' artworks 96 times, hold two online exhibitions (the 11th annual Confined exhibition and Future Dreaming) and take part in the Geelong Reconciliation exhibition, Koorie Art Awards and Linden Postcard Show.
In such a challenging year our talented artists also delivered two wonderful mural projects – the Yarra Valley Water mural (completed by Ash Thomas and Chris Austin, with assistance from Sean Miller) and the Rivergum Mural (completed by Chris Austin and Theo Briggs, with assistance from Tarsha Davis and Sean Miller).
PARTICIPATION

With the addition of two new Indigenous Arts Officers in January, we are delighted to report that we engaged 299 in prison participants and 189 in community participants across the year. That is an increase of 30% on 2019, and more than doubles the community participation from 2018.
Our flagship exhibition Confined also increased in artist participation, with 286 artists entering artwork in Confined 11, an increase of 34% from Confined 10.
SUPPORT
A key component of our program is providing art and cultural support to participants, encouraging a deeper exploration of their cultural identity. One way we do this is by providing cultural resources to our artists. These can include handmade booklets on the history of their mob, styles of artwork and customised resources based on artist's requests. In 2020, we matched the resources sent out from the year before, sending 397 resources, an increase of 137 from 2018.
When an artist is released from prison and joins our community program, we look to get in contact with them as soon as possible to see how they are going, and organise art supplies. Artworks created through The Torch are part of a rehabilitation and reintegration process that helps build confidence and social capital and can create pathways to economic stability. Art Packs include canvas, high quality paint brushes and acrylic paints and last year we gave out 287 art packs, up from 171 in 2019, and 97 in 2018.
OUTCOMES

In 2020, we registered 1156 artworks from our artists, almost double the artworks from the year before. As a result of this increase, our art team has increased by two staff members, and are currently looking for full-time Art Manager.
The Torch manages the sale of artworks on behalf of all participants in the Indigenous Arts in Prisons and Community Program, with 100% of the sale price going directly to the artist. Thanks to the quality of the artworks we receive, and generosity of our supporters, artwork sales more than doubled compared to the year before. We are overwhelmed by this support and so pleased for the economic and social impact sales are having on the men and women in our program.
The Torch facilitates licensing of artworks on behalf of artists in The Torch's program, with 100% of the usage fee going directly to the artist. We are pleased to report that licenses have steadily increased over the past two years, with 96 artworks being licensed in 2020.
LOOKING FORWARD
We are so grateful to our supporters, staff and the men and women in our program for the growth of our community organisation, and look forward to 2021 being another step in the right direction.
Indigenous Australians still make up around 2% of the Australian adult population but represent 28% of the national adult prison population. With your support The Torch will continue its aim to reduce the rate of reoffending by encouraging participants to explore identity and culture through art, develop confidence and define new pathways for themselves upon release from prison.