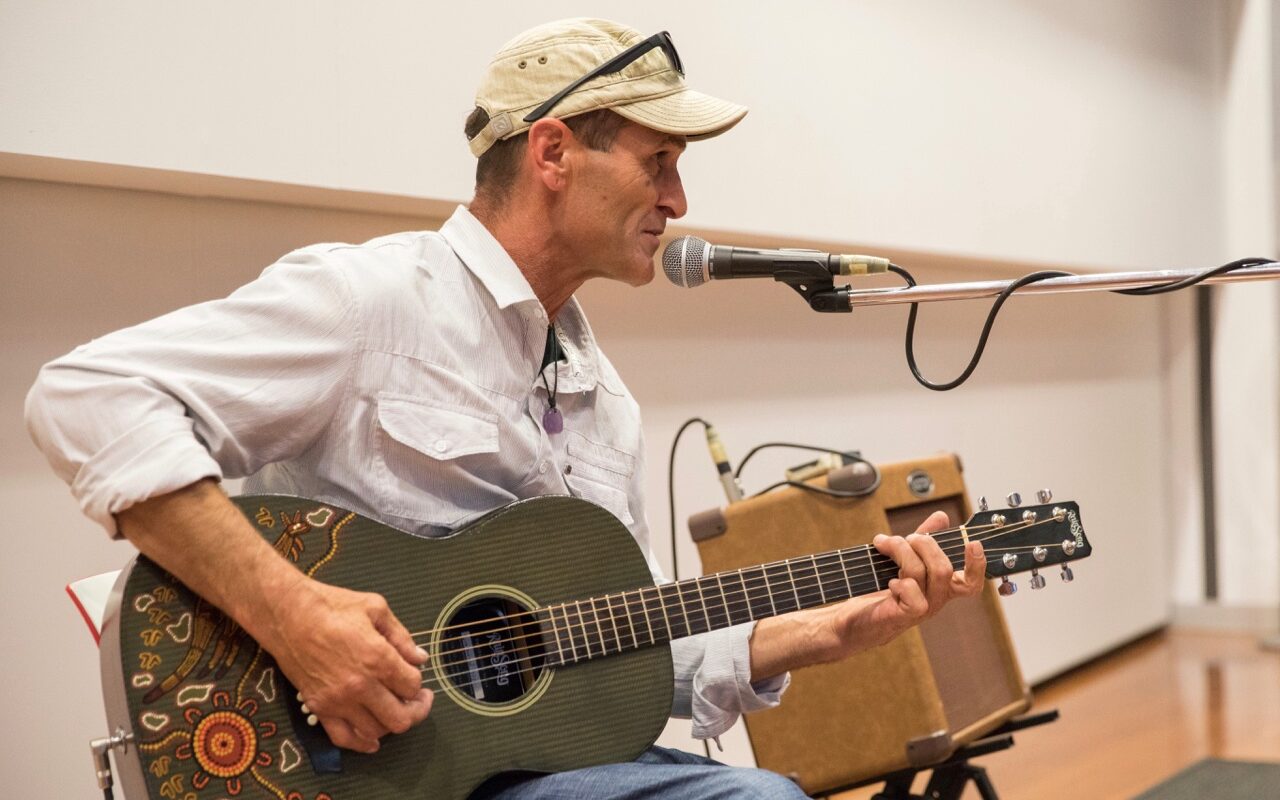 Artist Insights: Shane Lovett
Shane Lovett is Gunditjmara man from Lake Condah.
Painting and music are important components of his healing process, inspiring him and allowing him to express himself and explore his culture and identity. Through his paintings he visually portrays his life experiences and interprets his culture and his family's stories.
The Koori worker in prison encouraged me to get involved with the program, but for a long time I didn't want to. I was feeling negative about everything. I was sitting back and not trusting people. I've done a lot of time in jail and I was always reluctant to get involved in jail-organised exhibitions and to part with my paintings.
100% of the sale price goes directly to the artist from artworks created through The Torch. This has helped build trust for Shane.
But now, I've done a complete back flip. My artwork has evolved and I've had lots of people commenting on how it's gotten better. The whole trust thing is really important. The Torch being a community organization and not taking my money really earned my trust and respect even more.

Deep Sea Feed (Rejuvenate)
I first exhibited in the annual CONFINED exhibition in 2012. It is an opportunity to be recognised as an artist and the response you get when exhibiting is really motivating. The positive feedback encouraged me to develop my painting and it is empowering to be known as an artist, rather than just being known for having done time for crime.

My fighting Gunditjmara Elders. On the right is my grandfather, Private Herbert Stahle Lovett from Lake Condah in south-west Victoria, who enlisted in the AIF in 1917 and also served in the second World War. He is with Gunditjmara resistance leader Tarrarer, also known as Jupiter, who waged war against the British in Gunditjmara Country during the Eumeralla Wars in the 1840s. The Eumeralla Wars lasted from the 1830s through to the 1850s, perhaps the longest frontier resistance war ever fought against the British.
The CONFINED exhibition helps me pursue my art and the extra finance from sales comes in handy. The Indigenous Arts in Prisons and Community program has helped my confidence and allowed me to build trust in other things too, which opens so many doors.
Shane voluntarily contributed to the 2012 Evaluation of the Indigenous Arts in Prisons and Community Program and has provided ongoing valuable insights and recommendations for the development of the program.
Painting is a part of our healing. It helps us get through. Painting and playing guitar are my medicines.
Check out Shane's stunning works here and help support this fantastic artist.