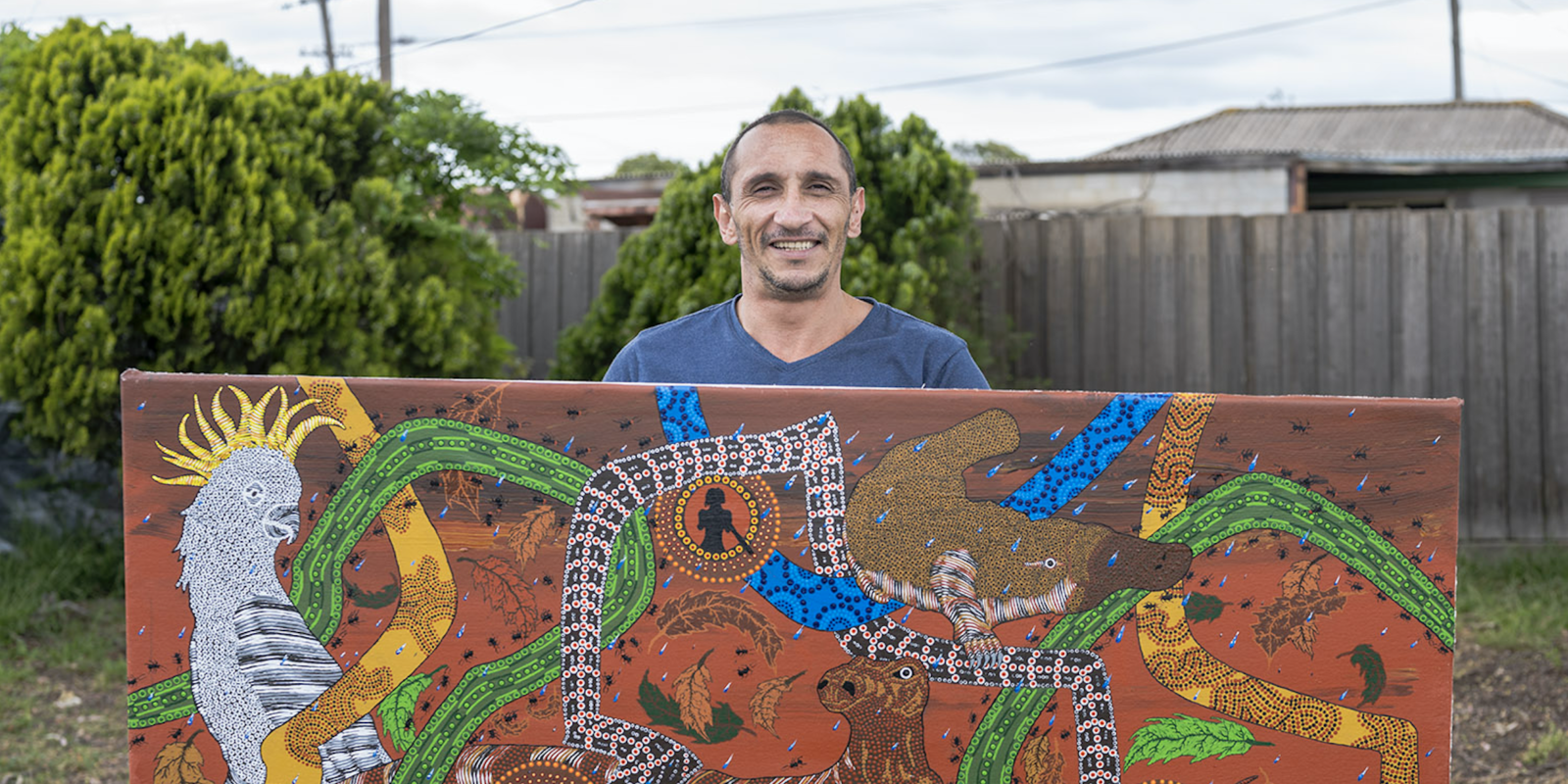 Artist Insights: Wade Traplin
Wade is a Kuku Yalanji artist who was taught to paint by his big brother, Ray.
His paintings are richly textured with intricate double dot work and he has developed a technique of warping his line work to give shape and dimension.
His favourite subjects are animals that are full of life and expression, and that capture people's attention.
Wade hopes to connect with a wide audience, to make sure his stories about Aboriginal life and culture are heard.
In 2019 he painted the pictured Wedge-tailed Eagle with a powerful, personal story behind it:
I feel like this bird, lifting his head high and pressing his chest out, looking forward to the next opportunity he can grab to feed, and looking for any dangers that could harm him or his family. This is the proud feeling of finally being drug free after 30 years. I feel like I have risen up from a cracked and shattered shell that has fallen from a high nest. I have been taught the right way to live and how to use culture passed down from Elder to Elder. For years I had heard these lessons but they seemed jumbled to my ears. When I finally emerged from the shell of addiction, the confusion fell away and started to soar into the right direction.

My new drug is being proud of my culture and I am now seeing how strong our people are and have always been. We are very respectful to life, people and the planet. I am grateful for my ancestors and for my present family for reconnecting me to Country; this is the most important thing all we Aboriginal people need.
In late 2020 Wade had three works chosen and curated to hang at Bendigo Bank in Carlton. Wade and The Torch were so proud to go to the branch to see his works on their gallery wall.
View all of Wade's work for sale at thetorch.org.au/artists/0037f00000lgah5qal/