ROBBY WIRRAMANDA WALPA
The Torch is proud to partner with Sofitel Melbourne On Collins and Global Art Projects to present Robby Wirramanda's first solo exhibition, Walpa.
Join me, Robby Wirramanda, a proud Wergaia descendant, on a journey through my art series titled Walpa, meaning 'to burn' in the language of my ancestors. This collection explores the profound relationship between fire, wind, and the ever-changing landscapes they shape.
With each stroke of my brush, I attempt to capture the mesmerizing dance between fire and wind. My art tells a tale of destruction and rejuvenation as these elemental forces mould the land, making way for new growth to bloom. Deeply rooted in the spiritual fabric of the Wergaia people, I explore the colours that roll out across my Country with seasonal change to portray the harmony and cycles of nature that are integral to our culture.
Embedded within every brushstroke is the reverence for my ancestral connection to my grandmother's Country. The Wergaia people's stories, traditions, and deep sense of belonging echo through my artwork.
Join us at Sofitel Melbourne On Collins from Tuesday 3rd October 2023 through to Friday 2nd February 2024. All artworks will be available to view and purchase online.
3 October 2023 – 2 February 2024
Sofi's Lounge, Level 1, Sofitel Melbourne On Collins
25 Collins St Melbourne
---
THE TORCH STAND BY ME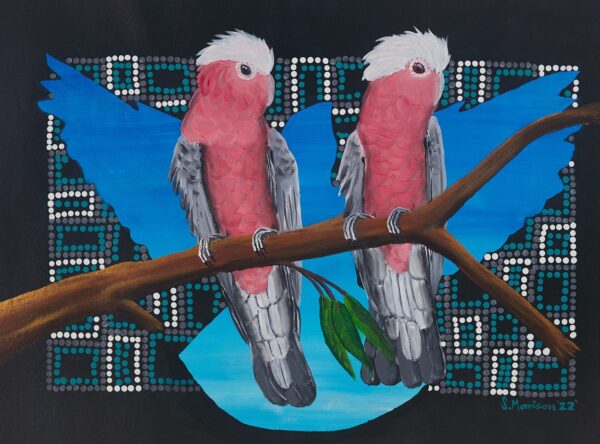 S.Morrison (Gunaikurnai/Wirangu/Kokatha peoples) Stand By Me 2022, acrylic on canvas
Stand By Me presents 24 curated artworks from The Torch program. Each artwork represents an artist's own exploration of their cultural and personal journey, reflecting the stories they choose to share in their own voices and their own styles.
The Torch supports First Nations people in Victoria whose lives have been impacted by the criminal justice system to explore their identity and culture through art and define new pathways for themselves upon release from prison.