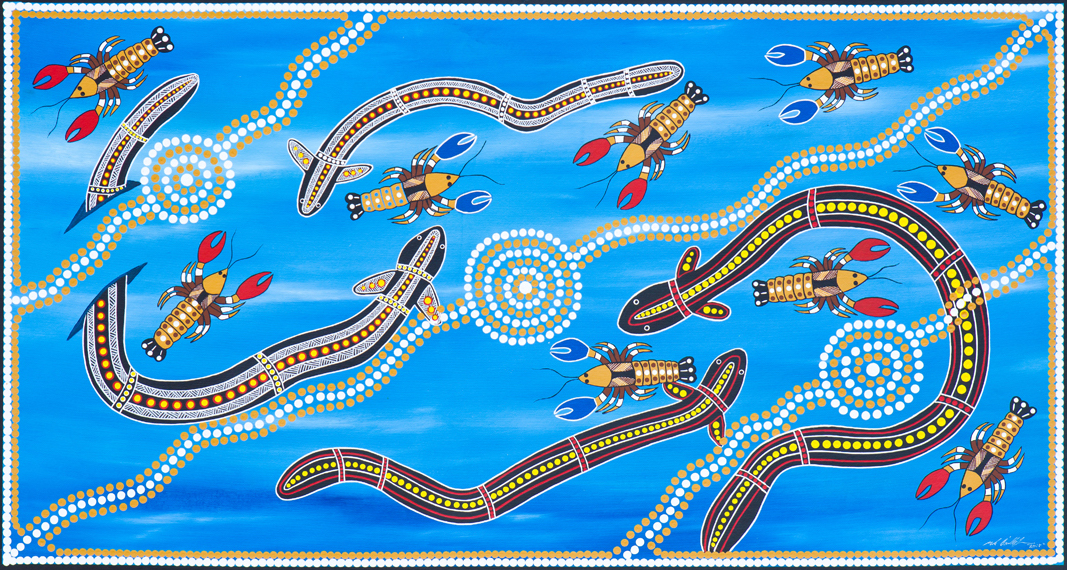 Yaluk Biik Baan
Ended — at Melbourne Water foyer
Yaluk Biik Baan means 'River Land Water' in the Woi wurrung language of the Wurundjeri people.
To celebrate the United Nations International Year of Indigenous Languages, Melbourne Water is hosting an art exhibition entitled Yalik Biik Baan, meaning 'River Land Water'. The exhibition explores the ongoing connection of Aboriginal people to rivers, land and water.
This exhibition presents artworks from Wurundjeri, Bunurong and Wadawarrung artists as well as artists from The Torch.
The Torch manages the sale of artworks on behalf of all participants in the Indigenous Arts in Prisons and Community Program.
This exhibition is a fundraising event with part of the proceeds from all artwork sold going to the Peter Cullen Trust. The Peter Cullen Trust works with scientists, policy makers and political leaders to bridge science, people and the environment through funding and facilitating programs that contribute to improved rural and urban water management in Australia.
This exhibition is open to members of the public from 9:00am to 5:00pm Monday -Friday.
Artwork sales enquiries:
www.thetorch.org.au/gallery/mwexhibition/
Tel:  9042 1236
Image: Mark (Wathaurung people) Returning to Country, 2018
Date & Time
Start:
End:
Location
Melbourne Water foyer
990 La Trobe St, Docklands