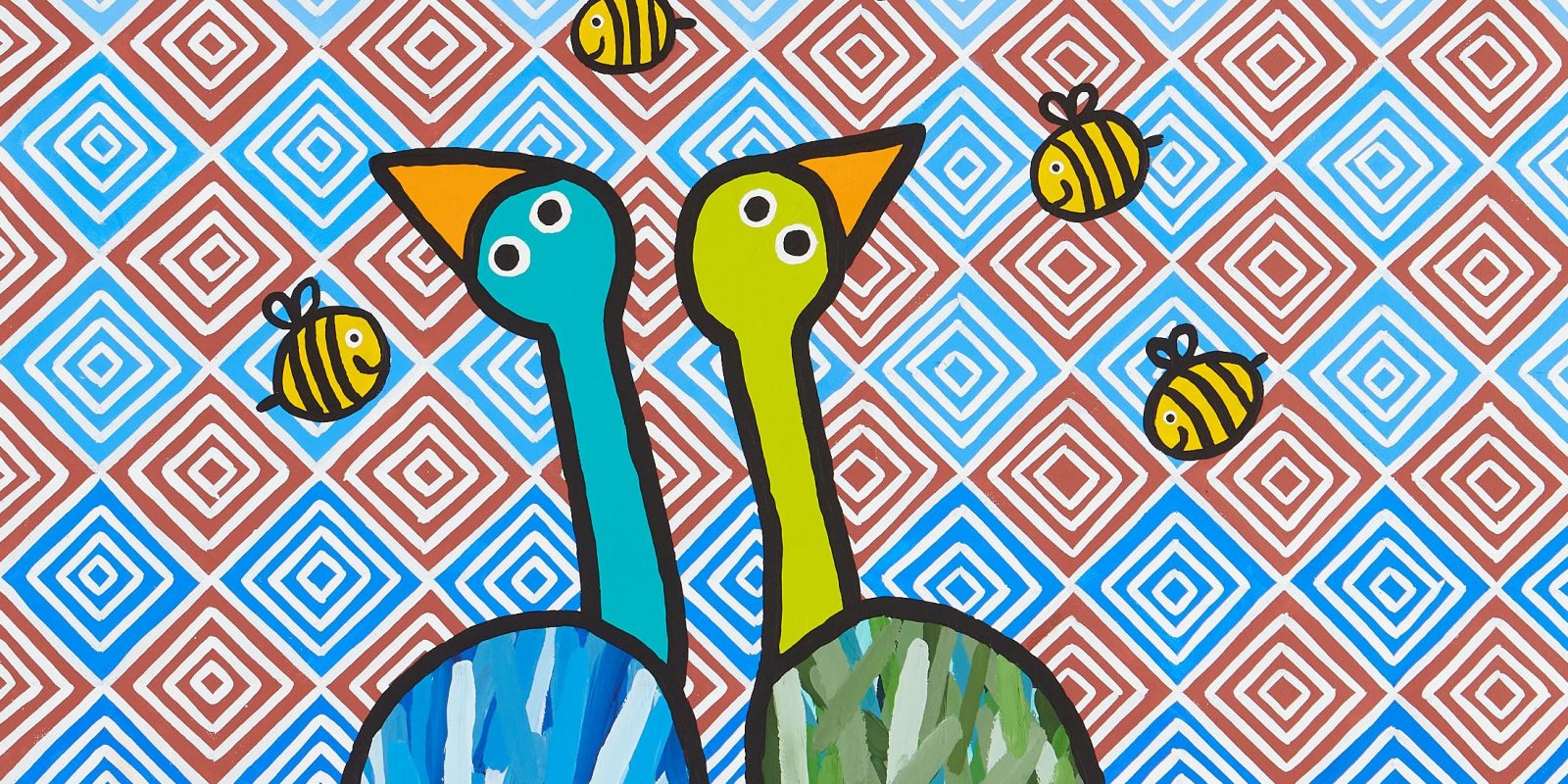 Banj Banj/nawnta
to start — at Counihan Gallery in Brunswick
Language words for sister were chosen as the title of this exhibition to represent the unique friendship between two female artists in The Torch program.
Banj Banj means sister in the Taungurong language of the Kulin Nation, with thanks to the Taungurong Land and Waters Council.
nawnta means sister in palawa kani the language of the Tasmanian Aborigines, with thanks to the Tasmanian Aboriginal Centre.
After growing up in the same regional town, Stacey and Thelma reconnected, forming a strong bond during their incarceration together at Dame Phyllis Frost Centre, Victoria's key women's prison in Deer Park.  Their friendship has continued beyond prison and they have maintained their relationship through almost daily phone conversations.
Thelma and Stacey produce strong, bold, colourful paintings and share an inspiring artistic and cultural journey.
Stacey is a Taungurong/Boon Wurrung woman with traditional connections to the Melbourne region. Stacey's grandfather and his siblings were removed under government policies and today Stacey describes herself as a grandchild of the Stolen Generation. Stacey has been living in Melbourne and has been exploring her identity, art and culture more recently as an adult.
Thelma Beeton is a Palawa woman with family ties to Cape Barren Island off the north-east coast of Tasmania. Most of Thelma's work is inspired by her totem, the Tasmanian Emu. A former graffiti artist, she first started creating work with The Torch in 2016 and has developed a unique painting style using bold, often primary coloured backgrounds with 2D depictions of emus.
Counihan Gallery in Brunswick opening hours
Wednesday to Saturday, 11 am to 5 pm
Sunday, 1 pm to 5 pm
More Information
Works will also be available to view and purchase online from July 24, 2021 at 11 am.
Will you share this exhibition on Facebook so more people can join our efforts to help Torch artists create pathways away from prison?
Date & Time
Start:
End:
Location
Counihan Gallery in Brunswick
Brunswick Town Hall, 233 Sydney Rd, Brunswick
Organiser
The Torch
Sarah Barrow
info@thetorch.org.au
(03) 9042 1236