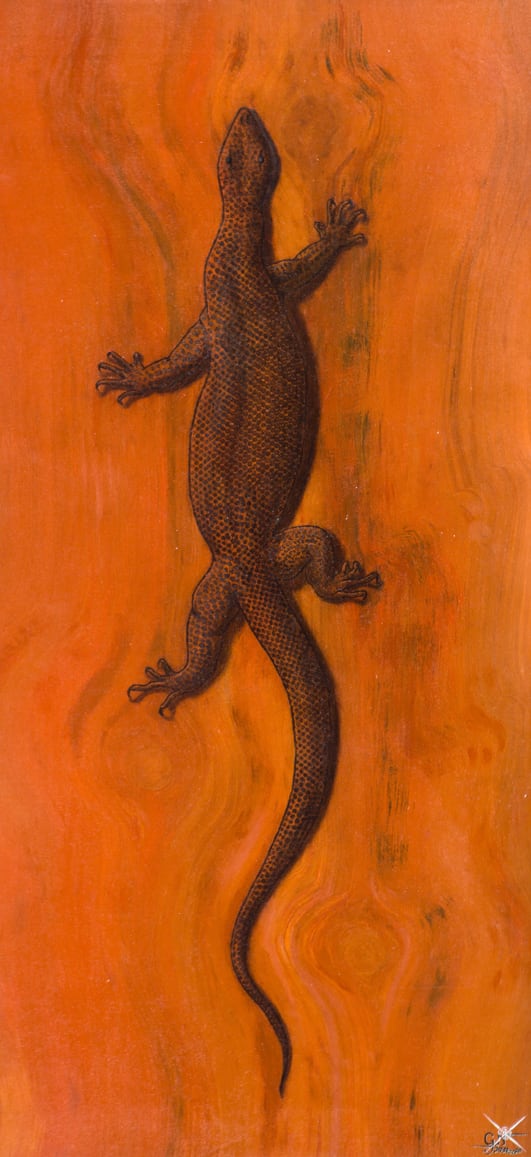 Ol' Mate
$1,250
Years ago, I went in search of a special place in Darug Country in the Blue Mountains of New South Wales. I knew I'd found it when the hair on my arms and neck stood on end, and I felt welcomed by the spirits of those who called this place home. I spent the next 3 months living in a cave.
One day, a goanna came into my cave, sniffing with his tongue whilst his eyes adjusted. I've seen the damage a scared goanna can do to a person, so I was fearful he'd panic and tear me to bits just trying to get out. After a very tense standoff he finally left. After that we developed a rapport of sorts. I'd greet him in passing, 'Hello, Ol' Mate'. He'd slow and dip his nose a little, which is as much respect as you want from a 2-metre carnivore.
The background is a nod to the times when our art was done on rocks, bark and wood. I honoured both Ol' Mate and the sacred site by crafting his likeness in charcoal, like much of the ancient artwork in the caves where we met.

100% of the sale price goes directly to the artist.

This artwork has been stretched by The Torch with compliments.