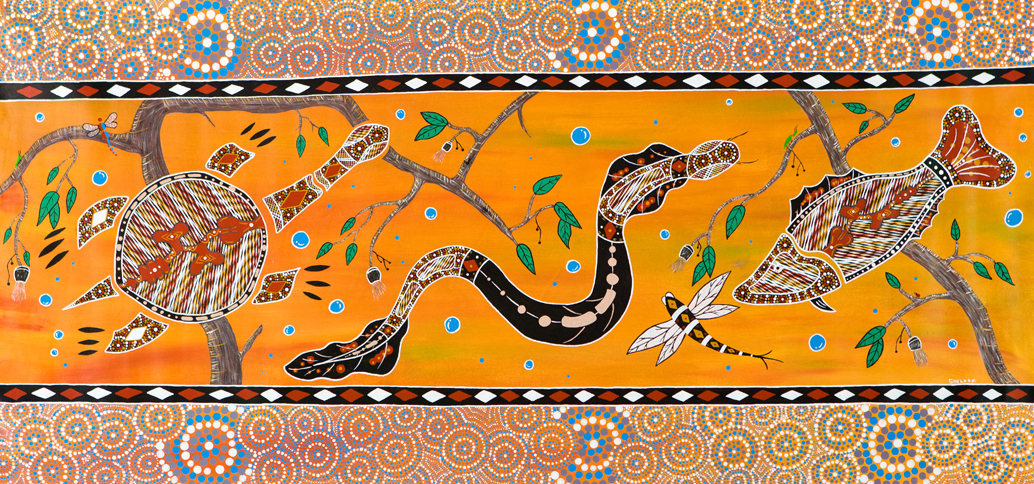 Life on the Murray
$1,750
The dreaming of this story explains how the lifeblood runs through the three Indigenous nations. This lifeblood brings many stories from the old days, and knowledge about many sacred sites. The stories tell how the river brings many signs of things to come, including times of change.
The three main animals (turtle, eel, fish) represent the life-cycles that roam these waters and are of great significance to the land. Indigenous diets, survival and people take form in way of totems.
The branches and insects symbolise the beauty and life on these lands, which change from one state to another. The markings on the three main animals are traditional markings from our past. The two black bands that run through the painting symbolise stone huts in certain areas, but also represent the three different lands that run through the Murray River. The large, medium and small dots signify Water Dreaming. It also symbolises eel and fish traps which our people use throughout these waters. This is why I call this painting, "Life on the Murray".
This is my Dreaming.

©Copyright the artist
Represented by The Torch, Melbourne

This artwork is UNSTRETCHED

This artwork needs to be stretched by The Torch and can only