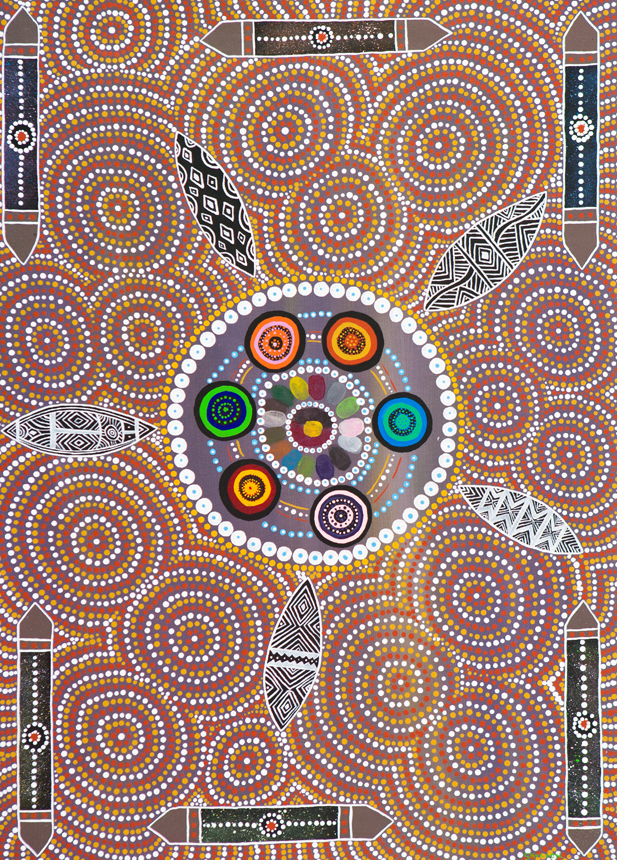 Treaty
$750
The meaning of treaty is a formal agreement between warring nations. It includes peace treaties, an entente understanding between parties, a discussion of terms and a means of negotiations to form peace, truth, and alliance between the parties. However, to us treaty is recognition – this is our Dreaming. 
This painting tells the story of our hopes and dreams. It represents this land and the healing process, as well as the treaty we long for. It tells of our voice, our truth and that one day we will all return home to Country. It lets us work together for a shared future. 
The symbol on the outside of this painting represents message sticks that have been sent across the states, from all who wish to be heard. The second inner-symbols depict different clan shields from the five Kulin Nations. The third inner-circle depicts symbols that hold great significance to our Dreaming – these symbolise our male and female Elders who have been called upon to share our voice, to show peace and to lead us into the future. The fourth inner-circle represents all of our people's fingerprints who have chosen their voice to be heard from the committee.
Our Elders represent us and put our voice in government, allowing us to heal and to place our footprint back onto this land, so that we can